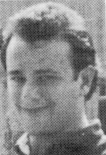 Picture Subtitle: Ari Kaplan

Title: Now Pitching New Statistics: Ari Kaplan
Written by RICHARD GOINS / sportswriter for the Chattanooga Times.
Edited by Mike Berardino
BASESBALL AMERICA: March 21, 1993; Extra Innings Section
CHATTANOOGA- No offense to Jerome Holtzman, inventor of the save statistic, but Ari Kaplan hopes one day to alter the Chicago sportswriter's crowning contribution.
Kaplan, 22, worked as a summer intern for the Orioles and as a consultant to the Expos and Padres the past three years. During those summer gigs, the Cal Tech graduate did more than answer phones. He furthered his mission to end the cheap save.
"The save is better than nothing, but we can do better," Kaplan says. "Pitching to one batter each time to get 37 saves is not necessarily better than getting 15 saves by pitching three innings each time. That's what I hope to reveal with a save-value statistic."
While Kaplan continues to tinker with save value, he already has devised three formulas that could, if instituted, change the way managers handle their bullpens.
Reliever's effectiveness (RE), potential earned-run average (PERA) and worst-case ERA (WERA) spell trouble for mediocre relievers everywhere. Like Indians righthander Tim Crews, for example.
"Tim Crews doesn't like me," says Kaplan, now working as a U.S. Army intelligence contractor in Fort Monmouth, N.J. "When I began working on the project, I looked at the Dodgers' pitching staff and found that while the statistics said Crews was an average to above-average pitcher, our statistics told a different story."
For Kaplan, the most telling stat is the RE, or the number of runs a pitcher allows in a given situation divided by the number of runs expected. Consider: With one out and the bases loaded, 2.3 runs are expected to score. If the reliever allows just one run, he has done 57 percent better than expected.
The PERA is what the pitcher's ERA would be if none of the runners on base when he left the game scored. The WERA shows what a pitcher's ERA would be if all runners he left on base scored.
"Statistics do two things: show how players played in the past and how those past statistics can be used to better the team," Kaplan says. "I see statistics published that are getting away from that. Statistics in baseball can be very misleading, especially in salary arbitration and determining which players should play where and when.
"A lot of managers I've talked with are going away from the statistics and going with gut feelings. They're saying, 'Oh, no, another statistic. I hear statistics every day and all these new things mean nothing to me.' To some extent, I agree with them."
Kaplan, a Lawrenceville, N.J., native and lifelong Mets fan, first devised the new statistics in 1989 as a rising Cal Tech sophomore in Pasadena. With a $3,000 fellowship in hand, he approached the Dodgers to do a summer project titled "How Do You Spell Relief? An Analysis of Baseball Pitching, 1876 to Present."
Kaplan found that relief pitchers were used in only 5 percent of all games played in 1900. Today, that figure is 90 percent. Kaplan also found relievers are used in twice as many games today as 50 years ago.
"The number of relievers has increased steadily through the years," he says. "Abolishment of the spitball in 1920 made it harder to strike out hitters, so you had to have more relievers, for example."
Armed with that information, Kaplan wrote a comprehensive computer program that would calculate the Dodgers' pitching statistics using PERA, WERA and RE formulas. Consulting projects with the Orioles, Expos and Padres followed.
Now, according to Kaplan, Howe News Bureau is interested in using the statistics, and several agents have approached him as well. Kaplan, who played baseball for Cal Tech and earned a degree in engineering and applied sciences, even went to the Winter Meetings in Louisville to test the waters.
"There's a lot of interest," says Kaplan, whom the Expos have retained as a consultant for their upcoming organizational meeting. "Baseball is very traditional. To get a new statistics in use, you have to be very aggressive. If the statistic is fundamentally sounds, though, it should be put to use."
Tim Crews beware.
Richard Goins is a sportswriter for the Chattanooga Times.